Hey there friends! My day is slightly less busy than yesterday (emphasis on slightly) and I'm feeling a bit better about the week ahead. Phew! I think my body was exhausted from the weekend activities and a good night's sleep has left me feeling rejuvenated. Love when that happens!
Since I'm feeling well-rested and have been able to get some real foods back into my diet after too much beer and fried food over the weekend (what can 'ya do), I think I might skip the bar after kickball tonight.
Every week, my friends and I play kickball on the National Mall and then head to the bar for a few fun drinking games afterword. Having kickball to look forward to every Wednesday has been a blessing, and I can't begin to tell you how much fun it is hanging out with your best friends in the middle of the week, but going to the bar afterword is just something I should skip today. I think I spent enough money and calories on beer over the weekend, thankyouverymuch. Yep, so I've decided that today I'm going to go for the kickball game only, no matter how hard my friends try to pressure me to go to the bar after. I need my rest!
What would you guys do, go to the bar with all your friends, or take a week off to save money, detox, and rest?
WIAW
Anyway, it's Wednesday so let's get into today's What I Ate Wednesday post! Thanks to Jenn for hosting the linkup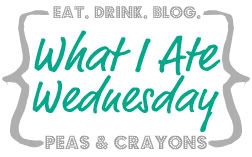 I tried to eat pretty healthily yesterday since I ate a lot of garbage over the weekend (actually it wasn't that bad- it just seemed like it), so let's see how I did!
Breakfast

I had a  deeeelicious bowl of Multigrain Cheerios with skim milk, half a banana, and blueberries. I absolutely love when we have fresh berries in the house, which unfortunately isn't very often since they are expensive out of season. These blueberries are so good and I have been enjoying them all week! Yumm
Lunch
While we were in New York this weekend, we stopped at our favorite Greek restaurant, Gyro World, for dinner. While there, I decided to order a Greek salad to eat at work during the week. I finally dove into it yesterday, and man, was it good!
When I first opened the salad, I was a bit overwhelmed by the lettuce, green peppers, cucumbers, tomatoes, red onions, feta cheese, grape leaves, and olives that were totally stuffed to the brim of the bowl. However, once I chopped up the ingredients, drizzled on some dressing, and tossed things around a bit, I was able to tackle the giant salad. Yum!! (BTW- I tossed the olives. I'm just not a fan).
I wound up only being able to finish about 2/3 of the salad and took the rest home for later. Score!
Snack #1
At work yesterday, I helped my coworker, Mary, with a project (hi Mary!). To thank me, she gave me a few of her Junior Mints (her favorite candy!) to snack on. The minty chocolaty bites were exactly what I needed after my big salad (plus the minty flavor was definitely necessary after those onions. I also ate a ton of gum yesterday afternoon. Raw onions = stinky breath. Yikes!).
These were totally delicious and reminded me of being in a movie theater, since that's the only time I would usually eat Junior Mints. So good!
Snack #2

Fabio and I had another three mile run on the agenda yesterday afternoon, so I knew I wouldn't get around to making dinner until somewhat late (I also got out of work late yesterday, giving me an even later start). To hold my hunger at bay, I snacked on a handful of raw almonds and Mini Babybel cheese. Perfect after-work snack!
Dinner

When we finally got home from our run, I decided to make something quick and easy for dinner. I wound up sauteing some onions and garlic in olive oil before tossing in brussels sprouts and chicken sausage that we picked up recently at Trader Joe's. Once they were cooked through, I tossed in some tomatoes, spinach, and whole wheat pasta. I made a sort of cheese sauce out of a wedge of Laughing Cow cheese, fat free Greek yogurt, and tons of fresh Parmesan. It was deeeelicious! I love meals like this
On the side I had the rest of my Greek salad from lunch.
Dinner Drink

To make last night's dinner a little more "special" than a regular old Tuesday, Fabio decided to open up a bottle of red wine to enjoy with our pasta. This is something we used to do quite frequently, as it makes a normal weekday a little more fun, but we haven't had much wine in the house lately and have therefore been slacking. Fabio and I talked about how much we like having wine with dinner (it feels so much fancier!) and we decided we're going to buy a case of some cheap, but good, wine next time we go shopping. Please let me know if you have any recommendations- we aren't picky!
Snack #3

I mentioned last week that Fabio recently signed us up for the Graze boxes, which sends you healthy snacks once every two weeks. This week's box arrived last night, and after dinner we decided to try out the "honeycomb crunch" snacks. The "crunch" was quite delicious and Fabio and I really enjoyed trying out this snack (especially with the red wine! It was quite fun!).
I'm not sure how long we'll continue to get the Graze boxes, but for now they are reasonably priced and fun for us to receive
So there you have it- everything I ate yesterday! Not a bad day all things considered; at least I got a lot of variety and colors going on! Some healthy fats too. Not too shabby.
Daily Activity
As I mentioned earlier, Fabio and I completed a quick three mile run yesterday. I was trying to pick up my pace a bit, but in the end it wasn't too different than usual. Oh well, next time. It was still a great run!
Question of the day: Do you drink wine? Do you know a lot about it?