Hey friends! Happy huuuuump day! I don't know about you, but this week is just dragging by for me. Yesterday when I woke up I had to remind myself that it was Tuesday, and then I was like, how can it only be Tuesday? Sigh. Oh well, at least Wednesday brings one of my favorite blogging traditions, what I ate Wednesday, of course!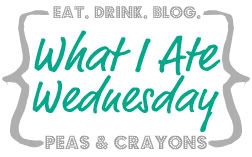 Thanks to Jenn for hosting the fun linkup each week
Let's take a look at my eats from Monday.
Breakfast
Breakfasts lately have featured two-ingredient (egg + banana) pancakes, oatmeal with a banana, or Greek yogurt with granola, a banana, and fresh berries when we have them. Obviously there's a lot of banana going on here, which I don't mind one bit!
Monday's breakfast was another two ingredient pancake, which I slathered with peanut butter post-picture. Clearly I had some trouble getting this guy out of the pan, but it still tasted great!
Lunch
It's pretty much all salads, all the time over here lately. I've been buying big bags of both spinach and "power greens" from Costco, and I've been eating a ton of huge salads in order to use up all the greens before they go bad. It's sort of like a game for myself- can I eat all the greens before they go bad? Haha. This week I think I will succeed, but that's not always the case
Stupid spinach.
Monday's salad included the greens mentioned above, plus a kale/brussels sprouts mix, shredded carrots, chicken, feta, and craisins. Plus a homemade dressing of olive oil, balsamic vinegar, mustard, lemon juice, salt, pepper, and some herbs. It's random, but it works!
I'll also usually throw in some leftovers from the night before when I have them, which either makes a totally delicious salad or a really awkward combination of flavors. Oh well, you gotta' do what you can!
Snack
On the way back from my grandparents' house over the weekend, we stopped by a produce stand where I loaded up on fruits and veggies for the week. While we were there I picked up a container of peaches, which are SO ripe and delicious right now. Yum. This one made a perfect snack on Monday.
Pre-dinner beverage
After work on Monday, Fabio and I met up with our friend James at Cantina Marina for "yappy hour." Each Monday in summer, dogs are invited to Cantina Marina to enjoy the "bottomless milkbone bar" while their human owners get awesome drink specials.
We aren't sure if Cantina Marina is going to continue holding their yappy hours after Labor Day (depends on when they consider summer officially over, I suppose) so we didn't want to miss this fun opportunity.
Although Jack had fun sniffing a few of the other dogs, and he certainly enjoyed the free treats, I think it's safe to say the humans had more fun.
I ordered a margarita, which was delicious.
I enjoyed it alongside this lovely lady, who we seem to stand next to every time we go to Cantina. I think she needs a name. Shall we call her Veronica? She looks like a Veronica to me.
Since Fabio and I are trying to save money and make smarter food choices after our big trip out west, we only stayed at the bar for one drink, and then headed home. What responsible adults we've become!
Dinner
As soon as we got home I immediately got started on dinner, which was a veggie pasta skillet with cherry tomatoes, yellow & green squash, and corn on the cob, loosely based on this Iowa Girl Eats recipe (I wound up using Laughing Cow cheese and skim milk for the sauce, along with some pasta water, and it turned out great).
The pasta came out salty, sweet, and spicy, which is definitely my favorite combination. It was another winning recipe from Kristin!
Workout
On Monday morning I completed one of the arms & abs workouts in the Kayla Itsines Bikini Body Program, and it was another killer. My triceps are still sore, two days later. Ouch.
The best part is that I made Fabio do the workout with me, and he was like "man, this is tough!" Haha! He's sore too, FYI
I think he's going to get back into working out with me in the morning, which I've really missed. I'm always so much more motivated to get out of bed when the alarm goes off at 5:30 am when I know someone else will be working out with me. Hooray!
Alright folks, that's all I have for you today. Have a wonderful Wednesday!
Questions of the day: Have you ever been to a yappy hour? Who do you work out with?