First of all, I just want to take a moment to send my thoughts and prayers to everyone who was affected by the tornado in Moore, Oklahoma. I can't begin to imagine what they must be going through, and it really makes me stop to think about how lucky I am. In case you're interested, here's a link with tips for how to help victims.
Hey guys. I have to admit, I'm feeling a bit down today.
Work has just been super, super stressful lately, and then to top it off we just got out of a meeting with the head of our department where we all got yelled at for not working hard enough. Apparently there are some people on our team who are shouldering all the work (read: me) and some people who have been seriously slacking off (enough to gain the attention of our finance department and get us all in trouble).
Even though I know the meeting wasn't about me, and I know I have been working by butt off at work, it still sucks to be a part of a meeting where you're disappointing your senior-level management. No one wants to be a disappointment, especially when you are already overworked and stressed.
At least I have an awesome manager, who said the following to me after the meeting:
"Hi – in case I don't see you before I leave for the doctor, I wanted to let you know that meeting was not about you; they just needed everyone to be there to hear it. You're wonderful and everyone loves you. I'm happy to talk with you tomorrow about any questions you may have."
She is amazing. She seemed to know exactly what I was feeling after the stressful meeting and said exactly the thing to cheer me up (at least a little).
I know I usually try not to talk  rant about my real job on here, but sometimes it really affects the way I'm feeling and I can't just brush it off and go on cheerfully like usual. This week has been one of the most difficult weeks I've ever had at this job, and I'm having a little trouble staying positive. I know things will slow down again, but it's hard to keep that in sight when I'm running around like a crazy person.
But you didn't come here to read about my work life, so let's get back to today's regularly-scheduled programming. It's What I Ate Wednesday, after all!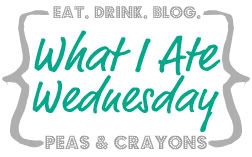 Thanks to
Jenn
for hosting the link up! 
Here's a little peek at what I ate on
Monday
.
Breakfast
Check that out- new cereal! In addition to my usual Multigrain Cheerios, I recently  bought some Oatmeal Squares and have been enjoying them for breakfast this week (I measure out 1/2 cup of each, Cheerios and Oatmeal Squares,) with skim milk, a banana, and blueberries. I love this breakfast. I actually get really excited in the morning when I think about eating it (it's one thing that helps get me out of bed in the morning – is that weird?).
Lunch
Luch was pretty standard around here on Monday- I had turkey, mustard, and American cheese on a sandwich thin, with carrots & hummus on the side. I also had a mini Babybell cheese. This lunch is definitely my favorite go-to
It never gets old!
P.S. I hate when my carrots get like this. Why do they turn all white and gross-looking??? I washed them before putting them in the container…so weird.
Snack
A little later in the afternoon I headed into the kitchen to chop up my apple and make some unsweetened green tea, when I saw there were some pretzel crisps leftover from a meeting. Score!! I had a few pretzel crisps with my apple and tea and was very satisfied with my snack. Yum.
Dinner
My dinner on Monday was pretty good, but admittedly not my favorite. I had a piece of tilapia (seasoned with a few herbs, salt, and pepper), some cilantro-lime quinoa (this actually was really good), and roasted brussels sprouts and yellow squash mixed with some goat cheese. Everything about this meal should have been delicious, but for some reason it just wasn't doing it for me.
Oh, I still ate every bite, but it just wasn't my favorite dinner ever.
Dessert
Ahhh, nothing like a bowl of low-fat cookies & cream ice cream to end a hard day
Daily Activity: Now that my half marathon is over, I've gone back to running 1 mile every morning with Jack and completing Jillian Michaels workout DVDs in the evening. I'm going to try to do all 90 days of the DVD program as scheduled this time (since I actually have 90 days and am not training for anything), so you know I'll keep you posted. Right now the DVDs seem too easy and I'm actually missing my runs a lot, so I put a 5 mile run on the schedule for this weekend. I hope I get to it!! I'm missing my running!!
Question of the day: What do you do when you're stressed at work??
Psst…I was really hoping to get my half marathon recap up for you guys yesterday, but with my work schedule that just didn't happen. Hopefully I can get it up tomorrow!!