Hey folks! It's that time again…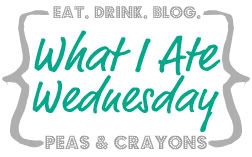 Time for What I Ate Wednesday! In case you're new to the party, head on over to
Jenn's page
to read more about what WIAW is all about
Let's get right into the good stuff, shall we? Here's a peek at what I ate on Monday, a typical workday.
Breakfast

Breakfast this week has been pretty typical for me- one cup of Multigrain Cheerios with skim milk, a banana, and a handful of blueberries. YUM!!
Unfortunately I used up the last of the blueberries yesterday (they were organic and on sale at Trader Joe's!) so this morning I was stuck with just the banana. Lame. My, how quickly I became spoiled with those blueberries! Last week they were a decadent treat, and now I'm grumpy because they're gone. #FirstWorldProblems
Lunch
Yesterday's lunch was a "chic p" salad leftover from this weekend's trip to SweetGreen. Included in my salad was:
mesclun and baby spinach
baked falafel
chickpeas
cucumbers
fresh peppers
pita chips
lemon hummus tahini dressing
So good! I was worried the salad would be a little wilted since it was leftover from Saturday, but it was surprisingly delicious even two days later.
Clearly.
After finishing my salad I munched on a few raw almonds, which I brought in case the salad didn't fill me up. The salad did fill me up, but I ate the almonds anyway
They are my nemesis.
So good!
Snack #1
A few hours later my stomach started to growl, and in order to avoid the chocolate in my office's candy bowl, I munched on an apple and sipped some unsweetened green tea.
I've been keeping my apple slicer at work lately (it's an awesome gadget I found at Marshall's for like $5) which makes eating my afternoon snack much more enjoyable. Maybe I'm just lazy, but the idea of cutting up an apple at work without a proper knife or cutting board always seems to difficult. Having my apple slicer handy makes me actually want to eat a healthy afternoon snack, instead of looking at my apple and deciding froyo would be a better option (not that it isn't of course, but you can't eat froyo every day at 3:00 pm now can you?).
Anyway, this snack was great
Snack #2
But it didn't keep me out of the candy bowl, unfortunately.
Sometimes a girl just needs chocolate, especially when there are Reese's involved. I mean, come on.
Dinner
Fabio brought some good steaks back from New York last weekend, and on Monday he offered to cook them in our new cast iron skillet (a gift that he purchased for "me" – aka, himself – a few weeks ago). I made some brussels sprouts and healthified mashed potatoes to go along with my steaks. The brussels sprouts were sauteed with a little olive oil, garlic, and balsamic vinegar, while the potatoes were boiled and mashed (skins on) with a wedge of laughing cow cheese, skim milk, and Brummel & Brown buttery spread. YUM. This was a fantastic dinner.
Cooking the steaks on the cast iron skillet produced a LOT of smoke at first (I was worried they'd taste burned), but the steaks were perfectly cooked and very flavorful. Fabio did a great job!
Yummm!
Monday was a rest day for me (since my half marathon is on Saturday, this week is pretty low key on the training front) so Fabio and I enjoyed this meal from the comfort of our couch and caught up on a bunch on TV
It was a great evening!
Question of the day: How do you cook your steak?